Marbella is a stunning seaside city located in the beautiful region of Andalusia, Spain. Known for its pristine beaches, luxury resorts, and vibrant nightlife, this coastal gem has become a must-visit destination for tourists and locals alike. There are several engaging activities to indulge in while exploring the city, from taking a relaxing stroll along the beach to embarking on an unforgettable tour. In this article, we will introduce you to the top seven things to do in Marbella that you absolutely cannot miss. So, without further ado, let's dive into these exciting experiences!
1. Stroll along the Beaches of Marbella
Marbella is known for its stunning coastline, which stretches over 27 kilometers and boasts numerous beautiful beaches. The soft golden sand and sparkling waters of the Mediterranean Sea create the perfect environment for a relaxing day at the beach. Spend your day sunbathing, swimming, or simply enjoying the views while strolling along the shoreline.
Some of the best beaches to visit in Marbella include Playa de la Bajadilla, Playa de Puerto Banús, and Playa de San Pedro de Alcántara. Each beach offers its unique charm and ambiance, providing you with a diverse and refreshing experience. Don't forget to indulge in some delectable seafood at one of the many beachside restaurants and chiringuitos.
2. Discover the Old Town of Marbella
The Old Town of Marbella, also known as Casco Antiguo, is a charming and picturesque area with narrow cobblestone streets, white-washed buildings, and beautiful plazas. As you stroll through the winding alleys, you will come across numerous historical sites, boutique shops, and delightful restaurants. A visit to this part of the city will transport you back in time, offering a glimpse of Marbella's rich history and culture.
Begin your tour of the Old Town at Plaza de los Naranjos, a lively square surrounded by impressive buildings, including the 16th-century town hall and the beautiful Santiago chapel. From here, you can explore other notable sites, such as the Church of Santa María la Mayor, the Arab castle, and the Museum of Contemporary Spanish Engravings.
3. Experience the Glamour of Puerto Banús
Puerto Banús is a luxurious marina located just a few kilometers west of Marbella's city center. This opulent district is often referred to as the "playground of the rich and famous," and it's easy to see why. Boasting extravagant yachts, designer boutiques, and upscale restaurants, Puerto Banús is a haven for those looking to enjoy the finer things in life.
During the day, you can shop at the numerous high-end stores like Louis Vuitton, Gucci, and Dolce & Gabbana or enjoy a leisurely meal at one of the exquisite waterfront restaurants. At night, the marina comes alive with vibrant music and bustling nightlife, making it the perfect destination for a memorable evening out.
4. Embark on a Day Trip to Málaga
The enchanting city of Málaga is located just an hour's drive from Marbella, making it an ideal destination for a day trip. As the birthplace of Pablo Picasso and the capital of the Costa del Sol, Málaga offers a wealth of cultural and historical attractions that are bound to captivate you.
Some must-visit sites in Málaga include the Picasso Museum, the Alcazaba, and the Gibralfaro Castle. Additionally, you can't miss exploring the vibrant streets of the city center, filled with bustling markets, charming cafes, and impressive street art. Before returning to Marbella, make sure to take a leisurely walk along Málaga's picturesque promenade, known as the Paseo del Parque.
5. Taste the Local Cuisine
No trip to Marbella would be complete without indulging in the mouth-watering local cuisine. With an abundance of fresh, local ingredients and a rich culinary history, Marbella is the perfect destination for food lovers. Some must-try dishes include gazpacho, a cold tomato-based soup, and espetos, grilled sardines skewered on bamboo sticks.
For a truly authentic dining experience, visit one of Marbella's many tapas bars, where you can enjoy a variety of small dishes, such as gambas pil-pil, albondigas, and patatas bravas. Pair your meal with a refreshing glass of sangria or a local wine, and you're in for a gastronomical treat.
6. Take a Guided Tour of Marbella
One of the best ways to explore Marbella and learn about its fascinating history and culture is by taking a guided tour. There are numerous tour options available, catering to a wide range of interests and preferences. For history buffs, consider joining a walking tour of the Old Town, where you will be guided through the charming streets and introduced to the city's rich past.
For nature lovers, a hike through the Sierra de las Nieves Natural Park or a boat tour along the coast will provide breathtaking views and unforgettable experiences. Alternatively, if you're interested in learning about the local wine industry, consider joining a wine tasting tour at one of the nearby vineyards.
7. Attend a Traditional Flamenco Show
Flamenco is a passionate and captivating art form that originated in Andalusia, making Marbella the perfect place to enjoy a traditional performance. The combination of soulful singing, powerful dancing, and rhythmic guitar playing creates an electrifying atmosphere that you won't soon forget.
Several venues in Marbella offer flamenco shows, ranging from intimate tablaos to larger theaters. Be sure to book your tickets in advance, as these performances tend to sell out quickly. This unforgettable cultural experience is not to be missed during your visit to Marbella!
8. Explore Marbella's Art Scene
Marbella may be famous for its stunning beaches and luxurious lifestyle, but it also boasts a thriving art scene that is sure to captivate and inspire. From galleries showcasing contemporary works to public art installations, there is something for every art enthusiast in this coastal city.
A must-visit for art lovers is the Museum of Contemporary Spanish Engravings, which houses an impressive collection of graphic works by renowned Spanish artists such as Pablo Picasso, Joan Miró, and Salvador Dalí. Another notable gallery in Marbella is the Ralli Museum, which features a diverse collection of Latin American and European art.
For those who prefer to explore the art scene outdoors, Marbella offers several public art installations, including the famous sculptures by Salvador Dalí that adorn the Avenida del Mar. This open-air exhibition is perfect for a leisurely stroll while admiring the beautiful artwork on display.
9. Wander through the Alameda Park
The Alameda Park is a lush and tranquil oasis located in the heart of Marbella. This charming park, filled with exotic plants and shady trees, is the perfect place to escape the bustling city and enjoy some peace and quiet. As you wander through the winding paths, you'll come across beautiful fountains, sculptures, and colorful tiled benches that add to the park's enchanting atmosphere.
Take a break from the hustle and bustle of Puerto Banús or the busy streets of the Old Town, and relax in the peaceful surroundings of the Alameda Park. This area is perfect for a leisurely stroll, a picnic, or simply sitting on a bench with a book while soaking in the natural beauty that surrounds you.
Conclusion
Marbella is a destination that has something for everyone, from its pristine beaches and vibrant nightlife to its rich history and cultural offerings. As you explore the city and its surroundings, you'll undoubtedly create memories that will last a lifetime. Whether you prefer to soak up the sun on the golden sands of Playa de San Pedro de Alcántara, indulge in the luxurious lifestyle of Puerto Banús, or embark on a day trip to the enchanting city of Málaga, Marbella is sure to leave you captivated and longing for more.
So, pack your bags and get ready to experience the best of Marbella, Spain – a city that promises an unforgettable adventure filled with breathtaking sights, mouth-watering cuisine, and endless opportunities for exploration.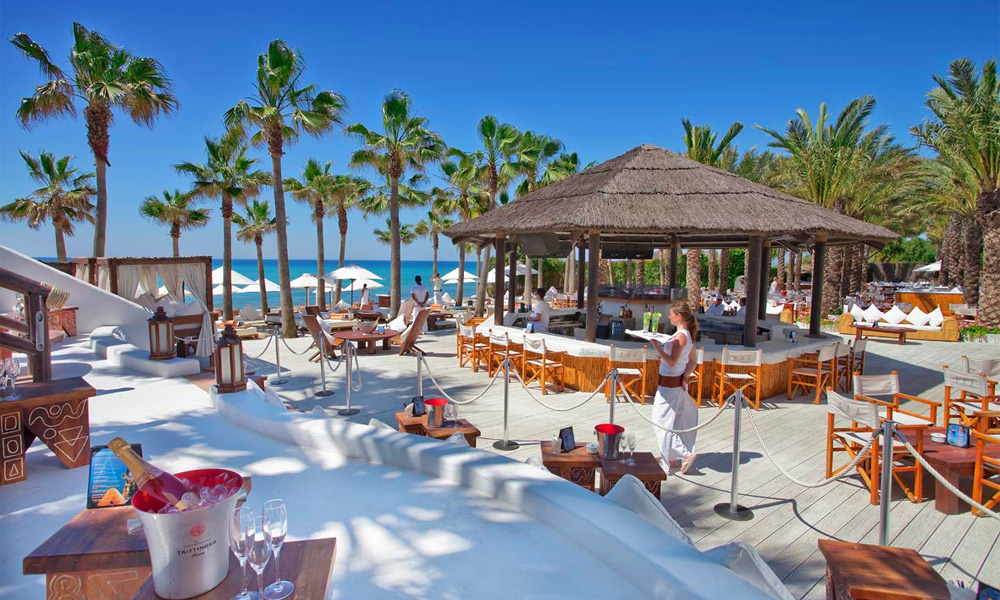 FAQ
1. What are the top attractions in Marbella?
The top attractions in Marbella include the Old Town, the Golden Mile, the Puerto Banus Marina, La Alameda Park, the Palm Beach Club, and the Castle of Gibralfaro.
2. What is the best time to visit Marbella?
The best time to visit Marbella is during the spring and summer months when temperatures are mild and sunny days are plentiful.
3. What kind of activities can I do in Marbella?
There are plenty of activities to do in Marbella such as beach lounging, shopping, sightseeing, enjoying the nightlife, taking part in water sports, or visiting historical landmarks.
4. Is it easy to travel around Marbella?
Yes, it is easy to travel around Marbella as there are regular bus services that connect the city with surrounding towns and cities as well as taxis and car rental services.
5. Are there any special events held in Marbella?
Yes, there are a variety of special events held in Marbella throughout the year such as festivals, concerts, art exhibitions, and food markets.